Faile (Pronounced like "fail") is an international artist collective formed in 1999 and based inBrooklyn, New York. They are recognised as some of the pioneers of global contemporary street art. The three founding members are Patrick McNeil (Canada), Patrick Miller (U.S.), and Aiko Nakagawa (Japan).
From initially wheatpasting screen printed posters on the streets of New York and major world cities, they progressed to the more permanent medium of stencil graffiti. Their instantly recognisable pop culture images in posters and stencils have allowed Faile to diversify into other areas encompassing fine art, sculpture, design, fashion, music, andhousewares. Despite this, the core of their work remains printmaking, stencilling, and painting.
Faile produces a variety of classic images as silkscreenprints and stencils. Images are commonly intricate in detail, vibrant in subject matter and somewhat design-based. Often they differ from one another by having coloured ink or paint applied to the background (paper or wall) beforehand.
In more recent work, multiple classic core images are combined together as a composite on large canvases to give an appearance of layering and the wear and tear of the street. As well as this Faile are now producing varied-sized paintings on wood and glass and have experimented with laser etchingon screen prints.
Posters, prints and originals are not only signed but have "1986" handwritten on them – a reminder of the year of theSpace Shuttle Challenger disaster.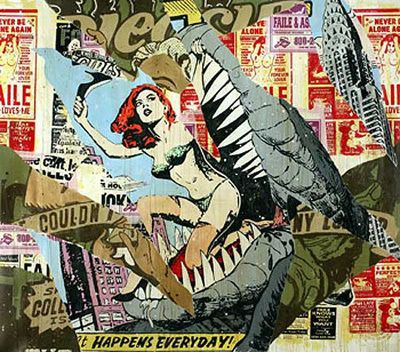 Dualism is commonest concept visible in much of Faile's work.
"There has always been an attempt to embrace the idea of duality in our work. Love/Hate, Peace/War, Violence/Beauty. This has a distinct place in the world we live and can always be felt as a constant push and pull. That kind of duality has found its way into our work by juxtaposing certain visual, language and symbols which represent these ideas." - Miller[1]
As well as having their work featured in many publications, Faile have published four books - Orange, Death, Boredom and Lavender. Orange and Death only exist as hand-built books with an edition of around 80 each. Boredom and Lavender have been published in limited edition as well as their hand-built counterpart. The books are each a collaboration of work by various artists (including Faile) and combine music, writing, fine art, street art, photography and design.